In 1935, Mrs. Edwin Merrill of 667 Emerson Avenue advertised for sale a General Electric refrigerator. By doing so, she unwittingly commemorated one of the great innovations found in Highland Park homes, electric refrigeration.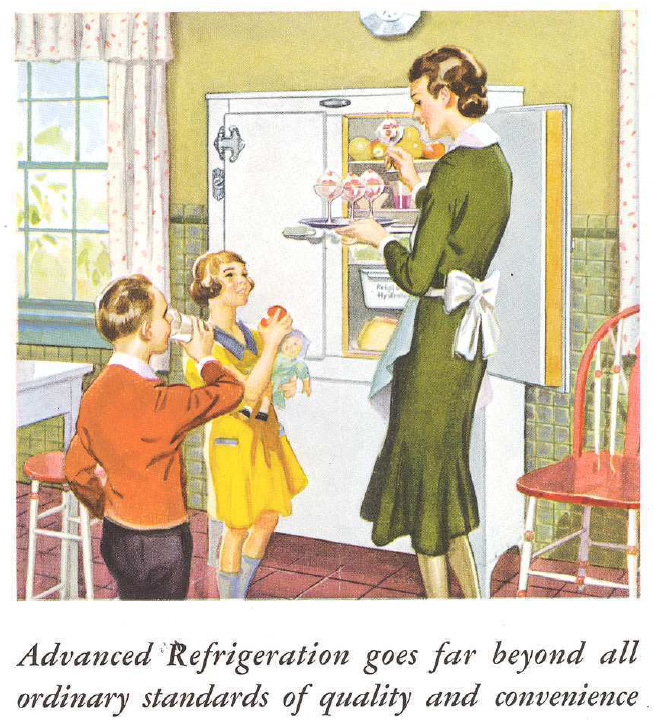 Before 1930, refrigerators typically used ammonia, butane or sulphur dioxide as their refrigerant. All three gasses are dangerous. It's no wonder that homeowners preferred the tried-and-true ice box. It took the invention of non-toxic, non-flammable Freon in 1928 to make electric refrigerators welcome in the kitchen.
Unlike older urban and suburban houses built at the turn of the 20th Century, houses in Highland Park typically have no ice door for the ice man to put his block of ice. Instead, there is a space set aside, either in the kitchen or adjacent, for a refrigerator.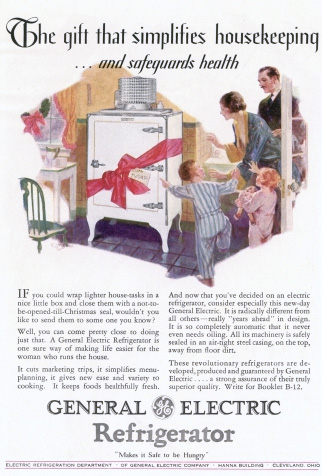 Mrs. Merill's GE likely was a Monitor Top model similar to the one shown in this 1928 advertisement. She probably paid in the neighborhood of $300 for her GE, which equaled the cost of a new Ford Model T. That's about $4,400 in 2019 money. From 1927 to 1936, Monitor Tops were among the most popular fridges sold in the world.
Ironically, the Monitor Tops didn't use Freon, but rather sulfur dioxide or methyl formate. General Electric's carefully sealed cooling system made the Monitor Tops safe, quiet, and almost trouble-free. Freon, though, won in the end. That is until the Ozone Hole scare in the Eighties.
We don't know what kind of refrigerator replaced Mrs. Merrill's GE. She had plenty of choice. In Hamilton, Spoerl's Hardware at 164 High Street sold Kelvinator; George Bast and Sons at 332 High Street sold Leonard Electrics; the Imfeld Music Store at 203 Court Street sold Electrolux refrigerators; Sears at 210 South 2nd Street sold Coldspot ($10 down, $10 a month!); Krebs at Third and Court Streets carried the "Mighty Monarch of the Arctic"; and Humbach's at 333 High Street dealt in General Electric. This list is not complete!
Electric refrigerators did more than keep food from spoiling. They opened up new culinary possibilities. In October of 1930, nationally known home economist Mrs. George Thurn held a cooking school at the Journal News Building. A GE refrigerator from Humbach's figured prominently in her demonstrations.
Curious to know some of the dishes Highland Park residents might have made using their new refrigerators? Browse this book of practical recipes from Electrolux circa 1932: