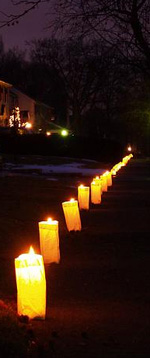 The weather did us in last year, but it's tradition. Time for the annual Highland Park Christmas luminary display! All neighbors are welcome to participate.

Free luminary supplies are available to Highland Park residents this Christmas. The Levelines at 436 Marcia Avenue, will provide bags and sand on December 22nd from 9:00 AM to 4:00 PM, and again on December 23rd from Noon to 2:00 PM.
Luminary bags are available also at the Duricys, 668 Emerson Avenue. Just take as many bags as you need from the milk box to the left of the front door. Cardboard bottoms provided for a limited time. The box will be replenished through Christmas Eve. Sorry, no sand here.
Thank you for keeping Highland Park bright and beautiful year round. Merry Christmas and Happy New Year.